Welc

ome Back to our

in- studio classes

At Yoga Northwest Your Safety is of primary importance to us! Below are our current guidelines to help you come and practice yoga with us in a safe and clean environment together with other conscientious and mindful people.
Proof of vaccination is still required.
All students, teachers and employees entering the Yoga Northwest studio are required to show a proof of Covid-19 vaccination.
Don't come to class if:
1. You have been diagnosed with Covid-19
2. Have symptoms of Covid-19, runny nose, cough, fever, sore throat, or other flu like symptoms
3. Or have had contact with a person of Covid-19
4. And are still within the required 5 day quarantine
5. Or have travelled and don't have a negative test

Face masks are now OPTIONAL!
Increased Ventilation System
We have installed 2 high powered air filtration systems that are running 24 hours, day and night. We also keep windows open as the weather permits. Wear layers :).
Drop-Ins Now Accepted! You can buy your class pass In-Studio and drop in to any classes of your preference!!
What props do I need to bring?
You now don't have to bring your own props! For your comfort, you are more than welcome to bring your own yoga mat and props if you like!
We have yoga mats, belts and "Yoga Mat Bags"

available for sale in our yoga Boutique.

You can also borrow Studio Equipment and sanitize it after use!
Parking???
Finding parking close to the studio is currently a little challenging at different times of the day. But, if you park a few minutes away, you get the opportunity to walk some extra minutes to the studio, giving your body, mind and heart some well deserved exercise, breath and fresh air, which will warm you up for yoga!!
Here is an example of how you can carry your Mat, Belt & a Clean Bath Towel
in a Mat Bag available in our Yoga Northwest Boutique!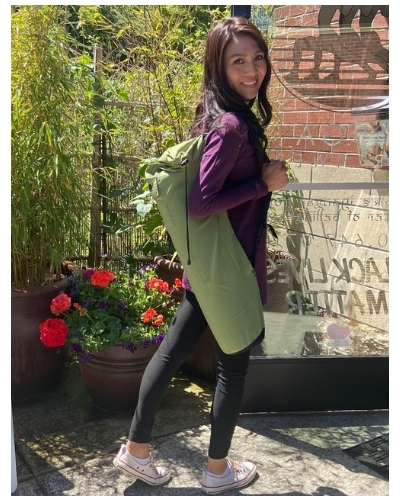 We look forward to seeing your happy faces back
in our In-Studio classes to help restore a vibrant community spirit and joyful energy
to our Yoga Northwest Studio!