Our Yoga Northwest 2-Year Apprentice/Teacher Training Program
We believe the most powerful way to become a highly skilled teacher is to learn via an apprenticeship program. During this process you will learn how to teach the yoga asana to our general public, in an actual yoga class, week by week and month by month progressively. You will learn detailed individual instructions, demonstrations and an in-depth understanding of different body types and levels of fitness for maximum safety and benefit. It's like learning to speak a language in the country you are visiting, instead of learning a language in a theoretical classroom setting.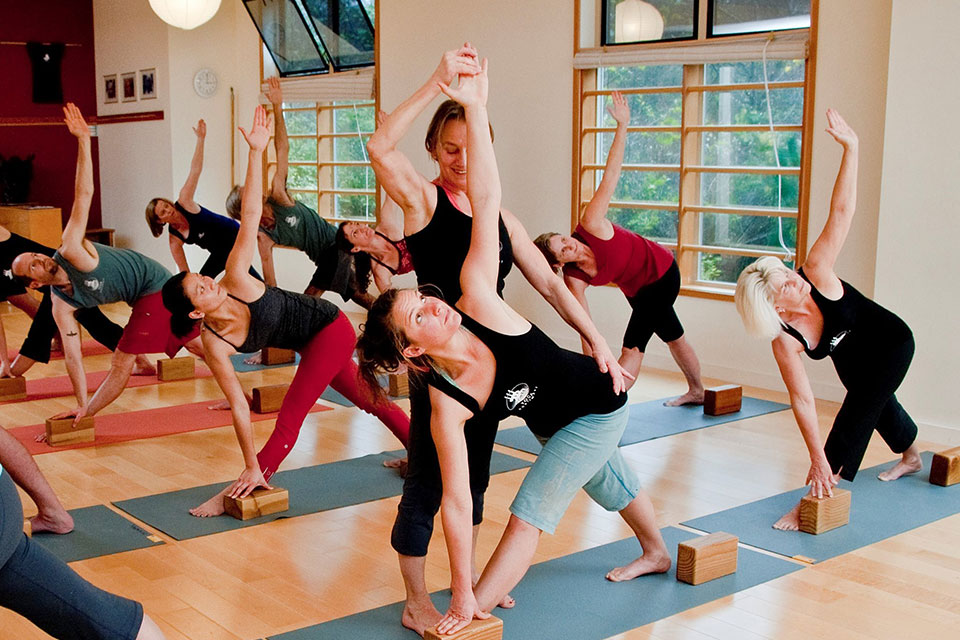 During these 2 years you will take a minimum of 2 classes a week; either a Dynamic 1 or a Dynamic 2, and participate in a Dynamic 3 class weekly, to learn how to progress the yoga postures from beginning to advanced levels.
In the Dynamic 1 class you will learn what poses are appropriate for this level and what modifications are necessary for stiff, weak or injured bodies.
In Dynamic 2 class you will learn how to progress the poses and prepare students for more advanced poses and inversions.
The Dynamic 3 class is for your own development, to help deepen your own home  practice, skill and depth of understanding.
In these classes you will learn week by week how to use different props, like belts, blocks, blankets, bolsters and chairs to help modify poses for common back, neck, knee and shoulder injuries, various restrictions, and help everybody become proficient and successful in the yoga poses each step on the way.
You will also learn how to use props for Restorative poses, to release stress, anxiety, headaches, digestive disorders, high blood pressure and hyper tension.
You will get monthly assignments on the Yoga Philosophy, and will present essays monthly via mail to your Mentor. You will also get homework assignments on sequencing different levels of classes.
All the Teachers in Training will meet monthly and share questions from their apprentice classes, from their own practice and from any classes they are currently teaching. During these meetings, the participants will also share readings from their reflections on their monthly homework on Philosophy.
We encourage our Teacher Trainees to take anatomy and physiology classes that are offered via workshops and also offered at colleges or massage schools to enhance the understanding of the movements of the different body-parts and its internal functioning processes for a greater teaching experience.
The Trainees  are expected to participate in the Pranayama classes when offered at Yoga Northwest or at other Iyengar Yoga Centers currently via Zoom. We also encourage our Teacher in Trainee to start a daily Pranayama practice, which will enhance your Presence of Mind and Sharpen the Awareness needed to become a Perceptive and Intuitive Yoga teacher.
To become a Certified Iyengar Yoga Teacher, you need to pass a "Weekend Certification Assessment", which are offered at various Yoga Studios across the country and Hawaii from August until December each year. Locations are announced each Spring. To participate in an Assessment you will need to apply by May first for the following Fall Sessions.
These Assessments are like a "Yoga -Bar Exam", where people are tested on the stability and ease in the practice of the yoga postures and Pranayama, the depth of knowledge of anatomy, the understandings of therapeutics ( back, neck, knee and shoulder problems including pregnancy and menstrual precautions) and the proficiency and skill in the Art of Teaching Yoga, which is the most important part of the assessment.
The people going up for a weekend Iyengar Yoga Assessment are not guaranteed to pass. It is a case by case process, but if you have prepared thoroughly with a strong and supportive guidance and a personal in depth practice, you will most likely pass.
When you pass the Iyengar Yoga Certification, you will be awarded the CIYT's Certification Mark, (Certified Iyengar Yoga Teacher) which demonstrates the purity, excellence and high standard of Iyengar Yoga. The CIYT's commit to teach the method set forth by BKS Iyengar without mixing in other styles of disciplines.
The Iyengar Yoga Certification is the hardest one to pass in the world, but also demonstrates excellence in The Art of Teaching Yoga.
In the Iyengar Yoga System there are currently 4 levels of certification and each level requires about 1000 hours of training to pass. To apply for the first level you need to have had a minimum of 3 years of study of Iyengar yoga with a certified Iyengar Yoga teacher.
Who can apply for our Yoga Northwest apprenticeship Program?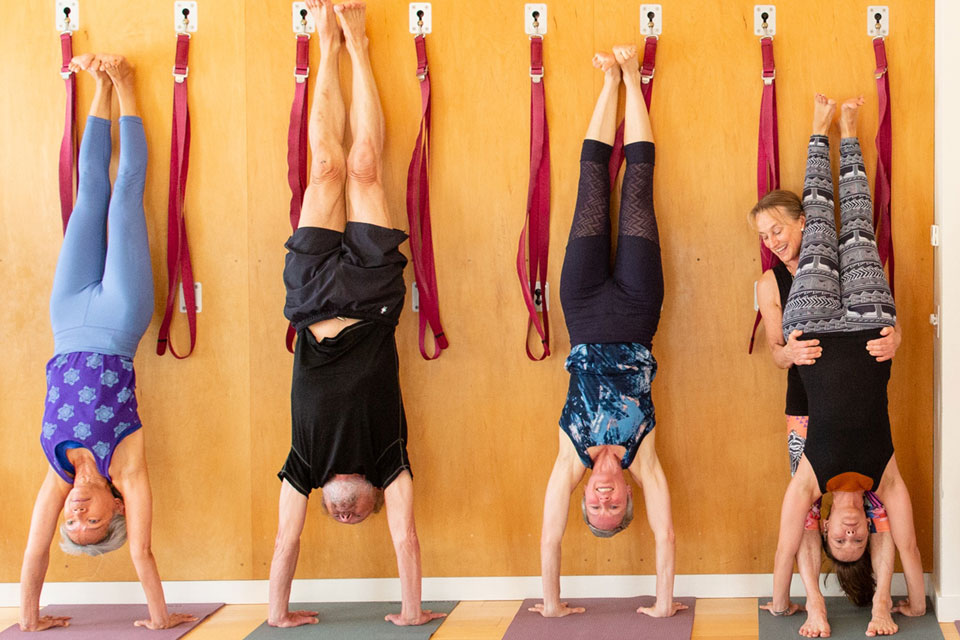 You need to have a minimum of three years of yoga experience, including one year of Iyengar yoga studies with weekly Dynamic III classes and with a dedicated daily home practice.
At Yoga Northwest we love to help train new Iyengar Yoga Teachers who will continue to spread the Light on Yoga with our community and our world for a healthier and more mindful and caring living on our planet Earth!
(Currently our apprentice ship program is via Zoom. But when we get back in our studio with our in-person classes, the apprentices will observe quietly in the back of each class. They will also participate when needed to help students with props and simple hands on adjustments to ensure a more comfortable and safe practice. When we get back in the studio, the apprentices will have the opportunity to teach yoga poses to students with feedback sessions.)
To apply for the apprenticeship program, email us at doyoga@yoganorthwest.com and answer the following questions:
Your name
Address
Email
Current Employment or Studies
How long have you practiced Yoga? How long have you practiced Iyengar Yoga?
Who are your past teachers and where?
Who are your current teachers?
How many days a week do you practice? How long is your daily practice?
Why do you want to teach Iyengar Yoga?
Why do you think you will be a good teacher?