In-Studio Classes: For your safety, please bring your own Yoga Mat, a Bath Towel, and an 8ft Yoga Belt. (Please mark your mat!)
Online Classes: For a safe, comfortable, and happy home practice have a Yoga Mat, 2-3 Blankets, 2 Yoga Blocks, a Yoga Belt, Chair, and Wall Space available.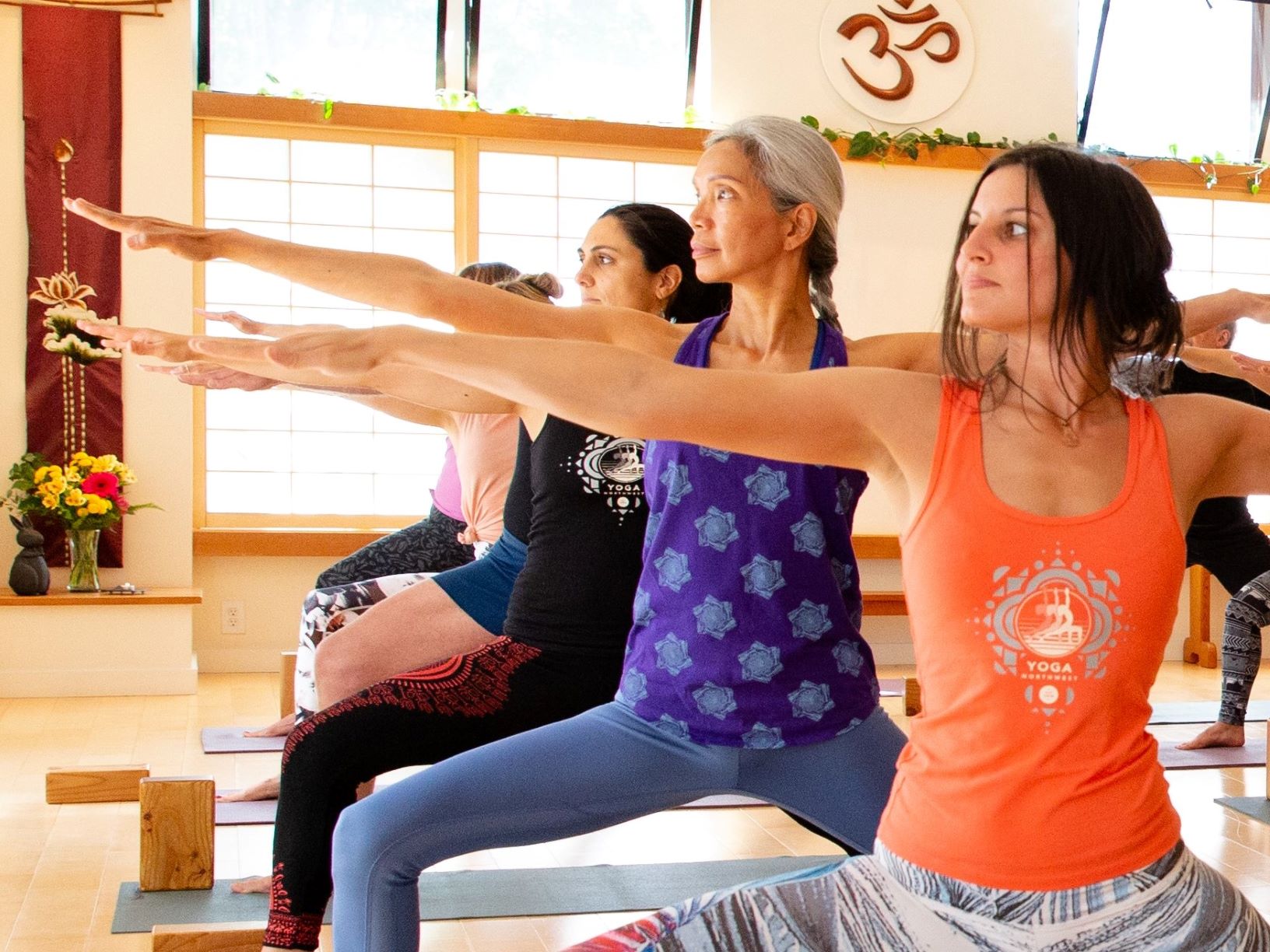 Dynamic I is for students who are new to yoga, or are new to Iyengar Yoga, with a balanced focus on strength flexibility and relaxation, with a special emphasis on postural alignment, body awareness, and mindful breathing.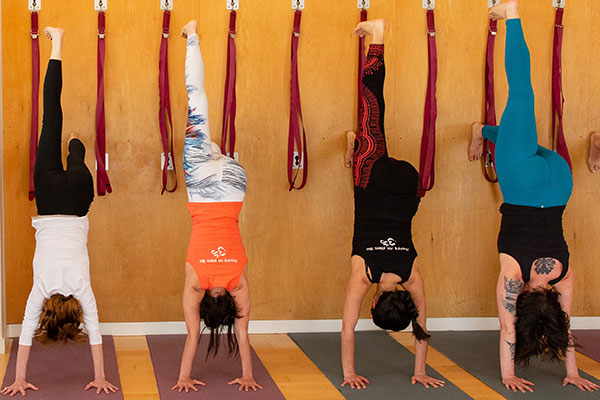 Dynamic I/II is for students, who have a minimum of 6 months experience of Iyengar Yoga, or for students from other schools of yoga with a strong practice . The focus of this class is to build deeper strength, stamina and flexibility and to learn to practice shoulder balance, the Mother of all yoga poses!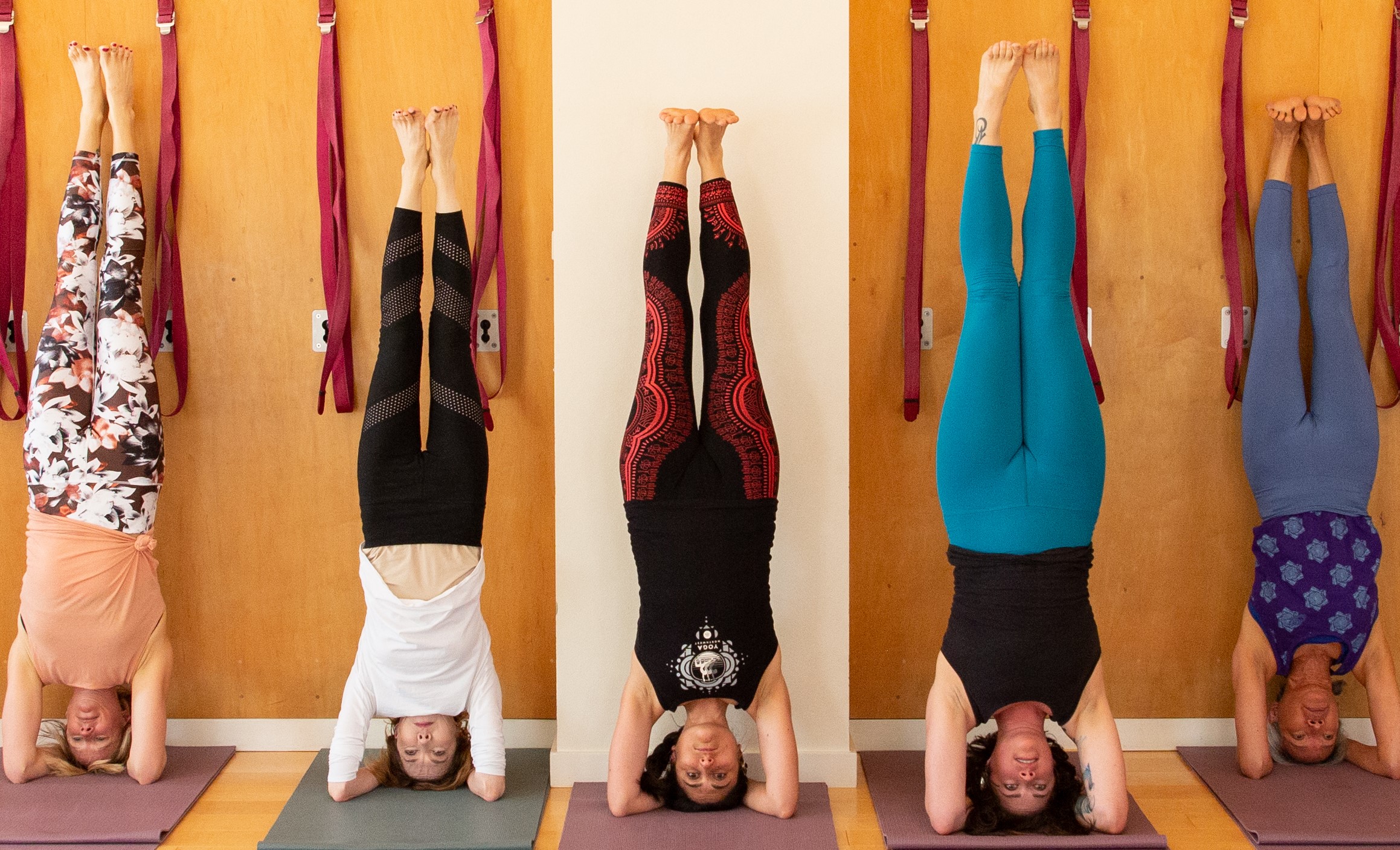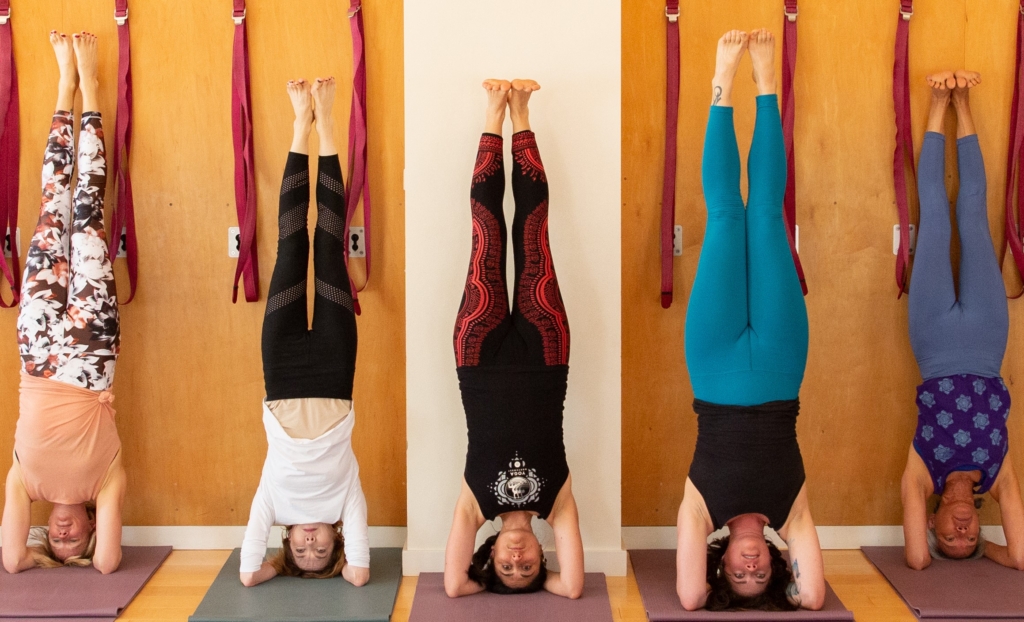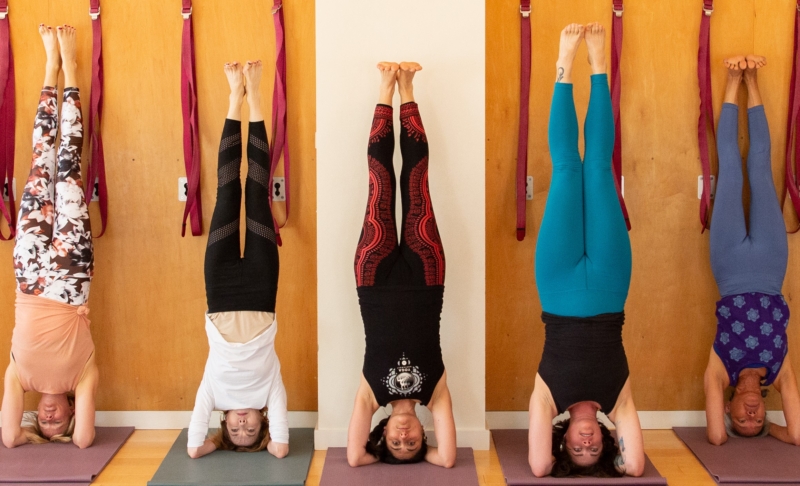 Dynamic II is for students with a minimum of 1 year of Iyengar yoga experience. The focus of this class is to explore deeper back bends, twists, and forward bends, learn to practice head balance, and handstand with a wall!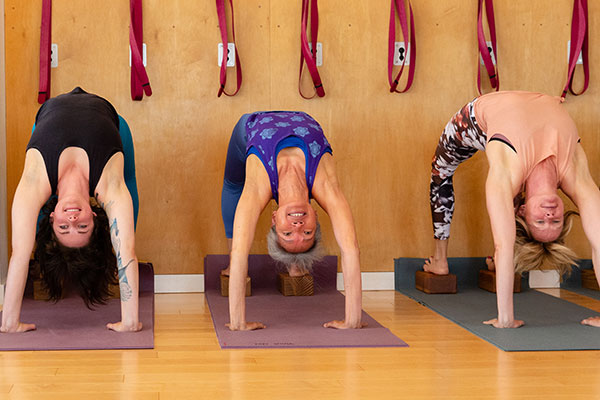 Dynamic III is for students who have 2 years of continuous Iyengar yoga practices, can do head balance and shoulder balance for 5 minutes each, can do Urdhva Dhanurasana with arms straight and are ready for more adventure: externally and internally!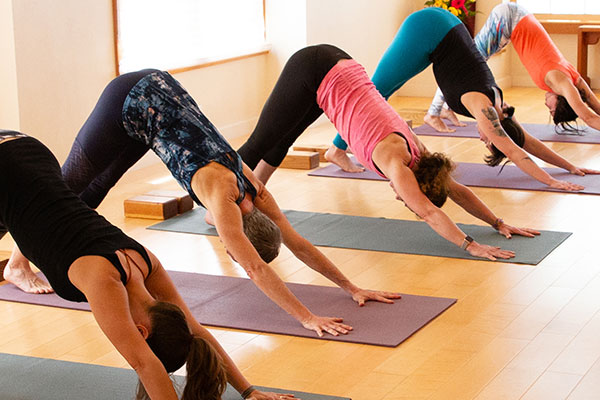 Early Bird (Dynamic I & II). Start the day with Yoga poses that will stretch, strengthen and invigorate your body and mind; preparing you for the day's activity with centered and uplifting energy. This class meets two mornings a week and will help you establish a strong daily practice.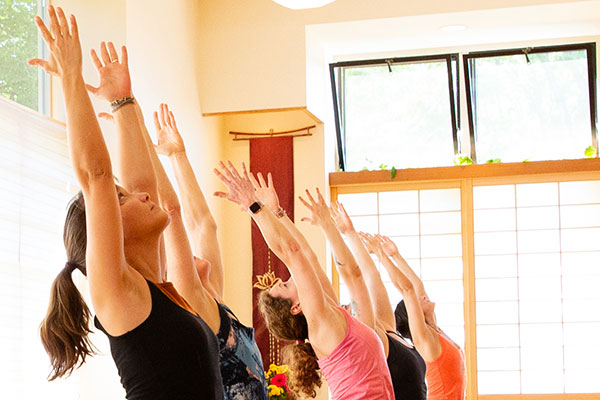 Iyengar Flows – "Alignment in Motion." Our Flow Classes are dynamic yoga poses linked together mindfully with alignment, breath and awareness to invigorate your body with strength and vitality, release stress and tension, and help you experience mental focus and inner peace. To join our Flow Classes you need 3 to 6 months Dynamic Yoga experience without back, knee, neck, hip, or shoulder injuries. Strong beginners may join our Lunch Hour and Easy Going Flow classes. Our Flow Classes are NOT recommended for Gentle Yoga students.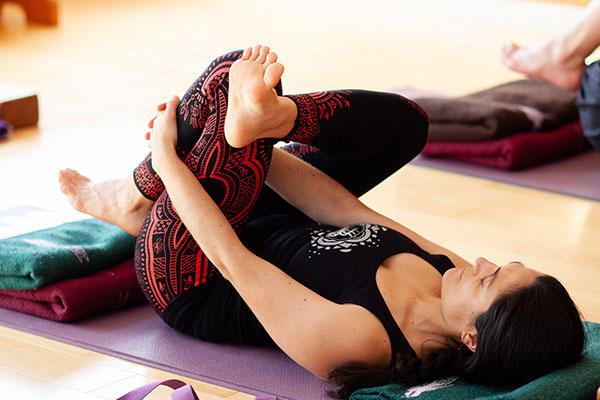 Gentle Yoga I is designed for people who have back, neck, knee or shoulder injuries which make it necessary to practice more slowly and with mindful awareness, while cultivating balance, core strength and breath awareness. This class is also recommended for elderly students and for people who wish to focus more on relaxation and stress relief.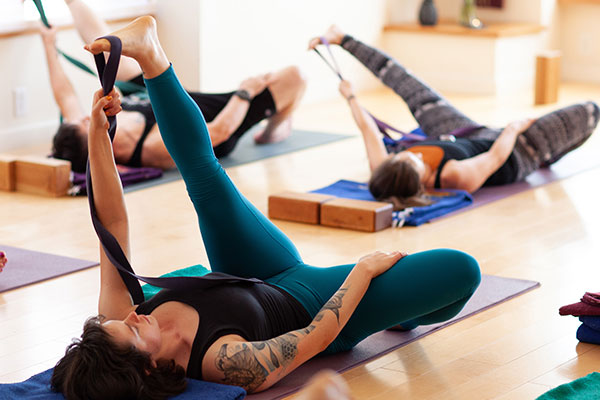 Gentle Yoga II is for people who have taken Gentle Yoga for 6 months and would like more variations and depth of practice, but are not ready for a vigorous Dynamic Yoga practice due to weakness, injury or age.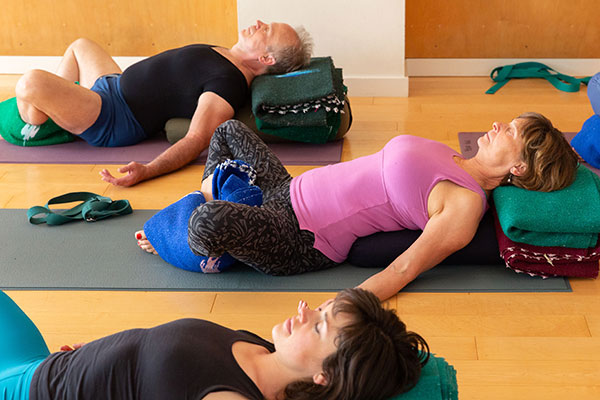 Restorative Yoga is for all students of yoga with a minimum of 3 months experience. This class will focus on supported and soothing yoga poses together with mindful breathing exercises that will release stress and tension, strengthen the immune system, bring mental focus, help you sleep better, and give you an inner peaceful and blissful experience.
Props needed: Yoga Mat, Two to Three Blankets, Belt, Bolster (or a big pillow rolled up in a bath towel) and chair. Optional: 2 Yoga Blocks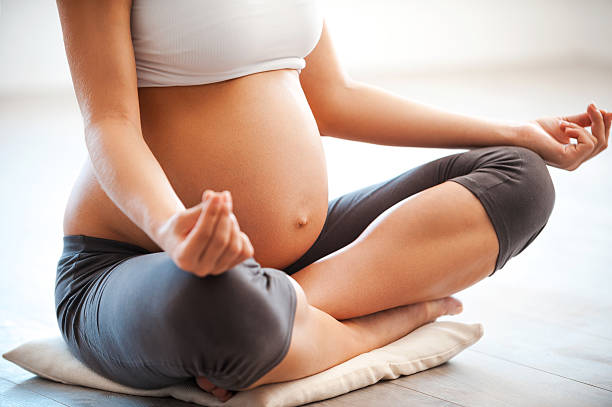 Our Prenatal Class offers a nurturing and supportive environment to prepare for birth. This class will help expectant mothers gain flexibility, strength, relaxation and confidence for a healthy and serene pregnancy, labor and delivery with specifically developed poses and breathing techniques.
Props needed: Yoga Mat, Three Blankets, Belt, 2 Yoga Blocks, Bolster (or a big pillow rolled up in a bath towel) and chair.